Spiritual Life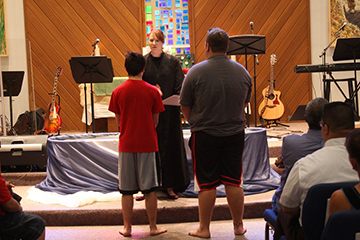 As a foundational element of our holistic philosophy, the Spiritual Life Program is centered on communicating the love of the Living God, our Creator, as revealed in the person of Jesus Christ, to the children and families that we serve. Our primary goal is for each of our youth to hear that God lived and died and rose again so that all may have the opportunity to be in a relationship with Him now and forever. We aim to equip all youth to develop and nurture this relationship in a way that will prepare them to live out their faith in daily life as children, adolescents, and as they leave FUMCH as adults.
FUMCH believes in and is committed to:
Development of spirit, mind, character and body within a Christian context
Holistic family-based services within a culture of safety and excellence
Lifetime commitment to practicing integrity, generosity and service to others
Interdependent relationships fostering self-sufficiency
Celebrating unconditional love
The importance of the connectional relationships with clergy and members of congregations, the Florida Conference, and our generous donors
Visionary, innovative, effective leadership and management
Our vision for the Spiritual Life Program is informed by the metaphor that Paul draws concerning the planting of seeds in 1 Corinthians 3:5-9. We are called to be planters of the seeds of faith within the hearts, minds, and spirits of our children / youth. We must nurture these seedlings, quenching them with the Living Water of the Spirit and feeding them the Word of God. With prayer and careful tending, some children / youth's spiritual lives will sprout very quickly and blossom into beautiful relationships with God. In other children / youth, there will be no visible change for quite some time, and in some, we will see no evidence of our labor in Christ. We are encouraged by Philippians 1:6, which reminds us that "He who begins a good work will carry it on to completion until the day of Christ Jesus." Although it may be difficult to see the fruits of our labor in Christ at times, we can be confident that the seeds we plant are taking root. Our faithful God continues to work in the lives of our children / youth even when we cannot see it, and long after they have left our care.