Blog
Infant Swim Program
Posted on July 17, 2015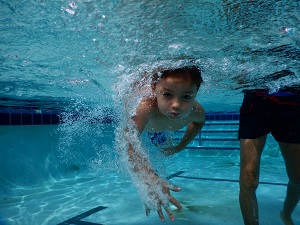 These hot Florida summers make many families thankful to have access to a pool. It's a fun way to spend time together as a family and cool off. But the pool can also be a dangerous place for curious little ones who may find access unsupervised. You can give your child the skills they need to be able to rescue themselves should they fall in.
In our commitment to child safety, three years ago we began a partnership with Infant Swimming Resource to begin offering lessons in their Self-Rescue™ program. Marie Mazzula, our Recreation Manager, as well as Jayne Carroll, our Child Care Director, are certified instructors through ISR and offer lessons on our campus. The goal of ISR Self-Rescue™ is to teach children ages 6 months to 6 years the survival skills they need to save themselves from drowning if they end up in water alone. Skills taught will vary depending on the child's age and abilities, but at a minimum, they will know how to float on their back in a restful position and maintain this position until help arrives. This is the technique taught to infants and as children get older (age 1 and up), they are taught a "swim-float-swim" technique to give them the skills they need to safely reach the edge of the pool.
Many of our day care children have utilized this program, as well as many of our own staff who are parents to young children and we have already seen this program save a life. Over Christmas, as one family who recently put their child through this course got caught up in the busyness of the holiday in the home, their toddler was able to find her way over to the pool and fall in. She was only two, but had the skills she needed thanks to her parents' proactive measure of enrolling her in ISR to swim to the edge of the pool and pull herself out.
Visit ISR's website at https://www.infantswim.com/ to learn more about this life-saving program and to find an instructor in your area. If you are in the Enterprise area and interested in learning more about how to register your child here, contact Marie Mazzula at marie.mazzula@fumch.org.