Blog
How the Children's Home Prepares For Hurricane Season
Posted on June 25, 2021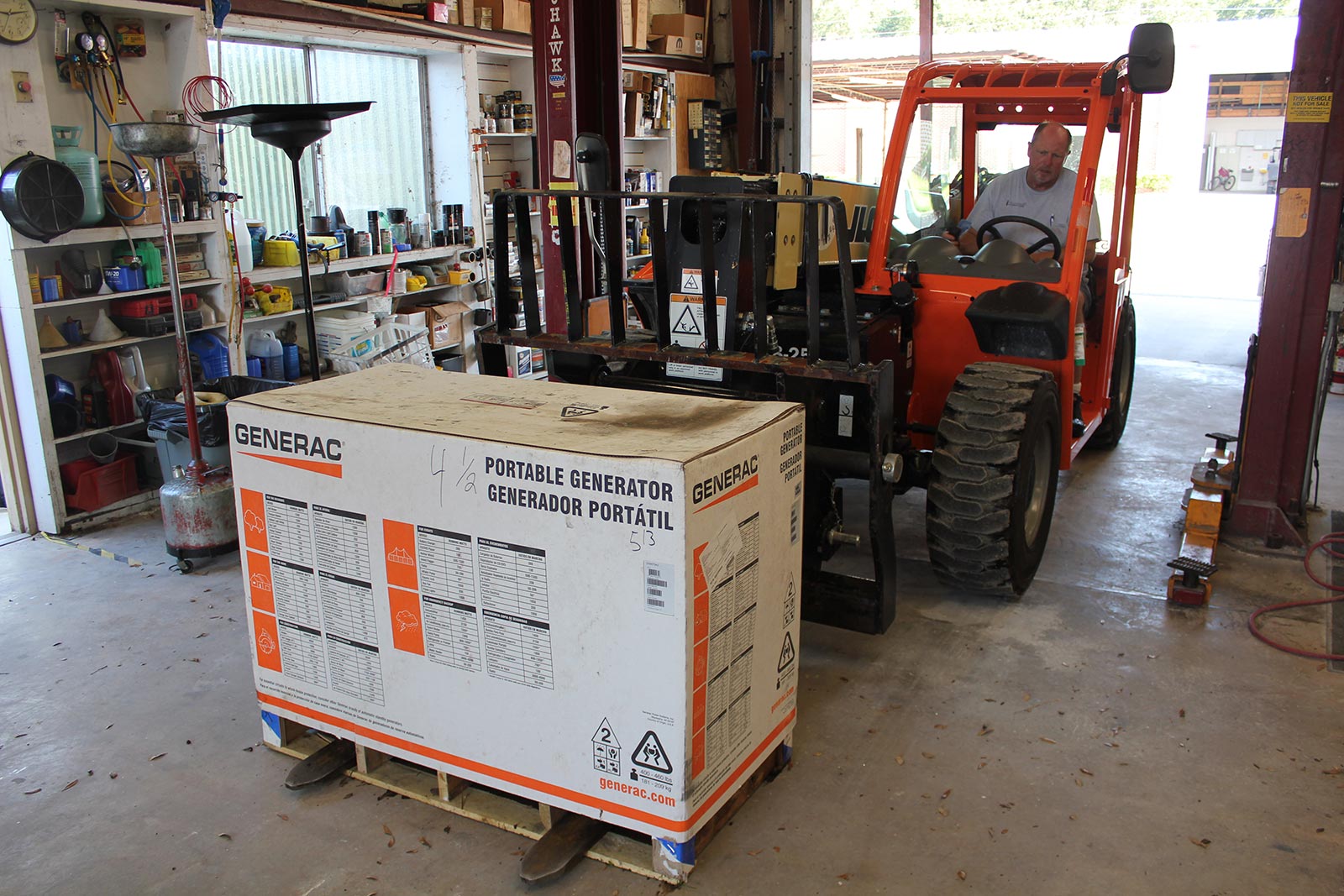 Hurricane season is upon us and households all over the south have been double-checking their preparations lately to make sure they're ready for the next storm. But hurricane preparations begin at the Florida United Methodist Children's Home weeks before the season begins. While our Madison Youth Ranch makes similar preparations, there is a lot more work to do on our Enterprise campus because it has more buildings to prep. Our Facilities Department is naturally the busiest covering a wide range of preps.
Starting a month or two before hurricane season, we make sure that all the trees on our 100+ acre campus are properly trimmed and present minimal danger of splitting or falling. This is an especially delicate operation since our Enterprise campus has been around since 1908 and there are some very old trees there.
Maintaining power after a storm is always a key issue. At the Children's Home we'll start weeks before the season performing annual maintenance on no less than 16 different generators. We'll also perform annual maintenance on all the necessary vehicles like forklifts and tractors and make sure that there is ample fuel onsite for all of them.
Our Enterprise campus is so large that it has multiple sewer lift stations on property, so annual maintenance is done on them as well as the fresh water plant to make sure that they're ready to be connected to auxiliary power if necessary.
Once all the large items are covered, our Facilities Department will make sure that all the chainsaws and hand tools are ready. Other small items to be confirmed would include rain gear, hardhats, gloves, reflective vests, and any other safety gear that might be needed during or after the storm.
While the Facilities crew is focused on equipment and fuel, our Commissary is focused elsewhere. The Commissary on our Enterprise campus serves as the distribution point for food, toiletries, bedding, and other supplies to all of the cottages. So you can imagine that the Commissary has stocked an ample supply of food and water as well as other supplies to carry the cottages through in the weeks after a storm.
"But what if you have to evacuate?" you might ask. In the entire 113 year history of the Children's Home, the only time we've evacuated the Enterprise campus was ahead of Hurricane Irma in 2017. At that time, the children residing here (along with appropriate staff) were evacuated to The Methodist Children's Home of South Georgia. Due to the expected path of Irma, it was not necessary to evacuate our Madison Youth Ranch at the time. Our storm plans include multiple possible options in case an evacuation is required. And if an evacuation is necessary, our Commissary is prepared. Throughout the hurricane season, specially designated pallets of food, water, and other supplies are marshalled on the loading dock ready to go.
Each of the cottages will also make preparations as it becomes evident that a storm is on the way. The youth will often assist with making sure their bicycles and other items are cleaned up and everything is secured. If a storm is eminent, the Commissary will make sure each cottage has all the supplies they need to weather the storm, including a flashlight with fresh batteries for each child. Each cottage on both campuses is equipped with a safe room in case there are particularly high winds or those random tornados that are often spun off in the northeast quadrant of an approaching hurricane.
In addition to our physical campuses, we also make sure all of our foster homes are ready for the storm as well. It begins with annual training for all foster parents that covers everything they need to consider before, during, and after a hurricane. We make sure that each foster home has an evacuation plan ready if necessary and confirm that all contact numbers are current.
As a storm approaches, our Foster Care Services staff will contact each foster home to confirm that they have everything they need and discuss possible evacuation if necessary. If they are evacuating or relocating, we'll confirm locations and contact information for follow up after the storm.
Once the hurricane has passed, every foster home is contacted to confirm that they made it through the storm safely. We'll also do an assessment over the phone in case they might have sustained damage to their home or need any specific supplies in the hurricane's aftermath.
After the storm passes, our Facilities team will start their assessment of any damage on our campuses and direct the inevitable clean-up of debris. Post-storm assessment will also include a review of utilities and service interruptions with the local providers to make sure services are restored as quickly as possible.
After all that, there's still one more step. Once everything over and cleaned up, we'll do an internal assessment of our preparations, actions, and reactions to the hurricane to see if we need to make any adjustments to our planning and preparation. Those adjustments go into the plan for the following year and it starts all over again!