Blog
Day on Campus Testimony
Posted on March 30, 2015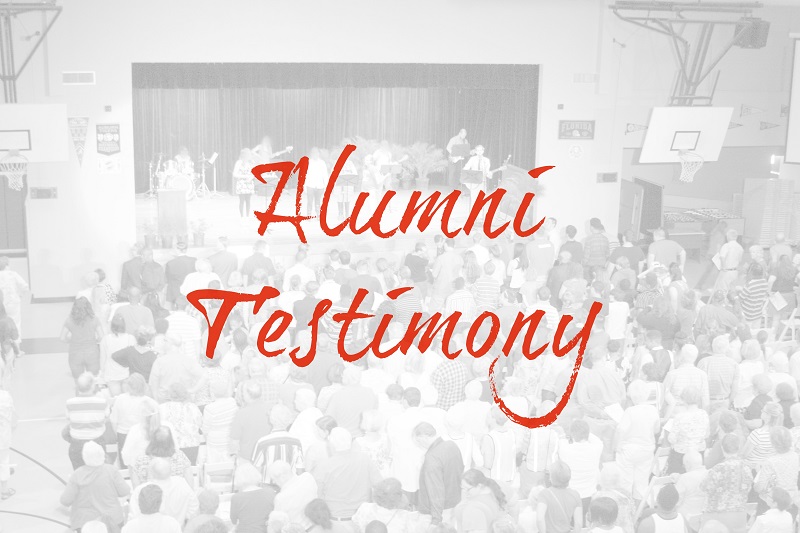 On March 21st, we hosted our annual Day on Campus open house event. We couldn't have asked for a more beautiful day to show our campus and share the powerful ways God is moving in this ministry. One of the most impactful moments of the day was a testimony shared by former resident Preston Taylor Payne. His story brought many of us to tears as we were reminded of why this ministry is important and the impact it makes on the lives of children who come to live with us in the midst of difficult times. We hope you are as touched by his story as we are.
Hello everyone,
My name is Taylor Payne. I am 22 years old. I am here to tell you story. This story is about a boy who came to this Children's Home, when he was 10 years old. This boy experienced horrible things, before he came to this place called, "FUMCH".  He never had a real father and his mother was a victim of drug and alcohol abuse. He had 4 other siblings, they meant the world to him and so did his mother, despite the sickness that controlled most of her adult life.
To keep the story short, I'm going to cut to the chase. He had a step-father that also suffered from drug and alcohol abuse. He was a nice man when he was sober and he even liked to take his step-children, fishing and do "fun" things! But as we all know, drugs and alcohol can do some horrible things….
One night, the step-father got upset with his 8 year old step-son. One thing led to another and 15 minutes later, the boy was on the way to the hospital with a fractured skull and a busted nose. I am sorry, this part of the story is not nice… From the hospital, after a 2 week recovery, the boy was sent to his first foster home. He was hurt, lost, sad, confused. He missed his family. He felt guilt. He also missed his then 1 year old baby brother, AJ, very much.
The boy didn't understand why his world seemed to be falling apart. He only wanted to be with his brothers, sisters, and mother. But, this was not allowed. What happened was very serious. After some time had passed, the boy was sent to a place called "The Florida United Methodist Children's Home". It was 2002 and he was 10 years old now. He also later found out that his new baby brother would soon be adopted away to a new family. Sad, right?
OK, if you haven't figured it out yet, the boy is me.
And I am here to tell you how FUMCH changed my life.
But first let's be honest. Who wants to be ripped from their family? Nobody. But sometimes life doesn't always make sense at first. And that's why when I came to The Home at 10 years old, I acted out. I missed my family and I felt guilty for the events that led to my arrival here. I thought it was my fault and I felt worthless. I acted out in school and at The Home.
As an adult, I look back and realize how normal this is. To feel guilt and to act out, at first. But through time, things changed. I realized what The Home had to offer…a stable roof over my head (no more moving around). No worrying about anyone getting drunk and hurting me. Constant meals. A ride to school. Being introduced to God. Clothes. Singing at church. Recreation. Choir practice. Summer camp. A pool! Therapy to deal with the things that happened to me. But most importantly a place to call home and a place where people cared about my safety and well-being.
Through time, things healed. And I put my focus on my school work and being open to therapy and dealing with my childhood traumas. This is so important. We don't always have control over the bad things, but we do have control over how we deal with them. Don't be scared to do this.
Also, never be scared to forgive those that have hurt you. Forgiving those people will do much more for you than you can imagine. It can relieve you of any weight you feel for the bad things that have happened.
The Children's Home made this possible. The houseparent's, tutors, recreation staff, pastor, and everyone here in this place, were my mentors. They were there for me. They advised me in ways that others never could. They listened. They cared. They encouraged me to remember that my dreams were valid no matter where I came from. The Children's Home gave me hope that I could be better than my childhood. That the hurts of my past didn't have to define my future.
They set rules and regulations, like a bedtime, points system, reasonable consequences for bad behavior, and they also rewarded great behavior and achievements. This was very therapeutic and necessary for my healthy childhood development. I am very thankful for this.
At age 16, I decided to enroll in the dual enrollment program at Deltona High School. This allowed me to take college courses at the same time of taking high school courses. I worked very hard (including a fulltime schedule over summer), because I was determined to be better than anyone ever thought I could be and to break the mold of what it was to be a "foster" or "troubled" child. I wanted to erase the labels. And after 2 years of a fulltime college schedule, high school, and part-time job, I graduated with my Associates Degree, 1 week before my high school graduation. I was so proud of myself. It felt good to be feel proud, especially for a child who once felt worthless.
I want to thank the house parents for believing in me, giving me encouragement, and even for driving me. I know it may seem so simple, but I am so thankful. I had to go to high school, then be driven to college, and then work, sometimes all in one day. And that was for just one kid. So thank you houseparent's for all that you do. Your kindness and unmatched hearts do not go unacknowledged, for one minute. With you, The Home would not exist.
It's not always easy to see this, at first. But I promise if you just have faith and an open mind, you too can come to realize this…. Life is what you make of it. No one can hold you back, but you. Every day isn't always pretty but if you can only use the hurts of the past as encouragement to better your lives, then we will continue to break the mold of a "foster" or "Children's Home" child. And to realize that The Home is here for us to succeed in life.
There is so much for this place to offer, don't be too proud to use all there is to better yourself.
Also, when you become an adult, the world isn't always pretty either, but that's why it is so important to prepare yourself mentally, emotionally, and psychologically. Again, don't be scared of therapy, while you are here. It can literally change your life for the better, forever.
Make yourself proud here and take the great things with you to adulthood. Use it to continue to break the mold and to just live a life full of purpose. Never forget your dreams are valid.
At this time, I would like to thank a few people who made a great impact on my life, during my time here… Ms. Betty, Ms. Shavon, Ms. Rose, Ms. Sandy, Ms. Marie, Pastor Denny, Ms. Debra, Mr. Mike and Ms. Maritza, Mr. Shane, Mr. Jose and Ms. Romanita, Ms. Kitty, Ms. Christina and Mr. John, Mr. John Mark, Ms. Debra Suto-Henry, Dr. Henry, Ms. Karen, and many more that time restraints will not allow me to name.
I would like to acknowledge my family, here today. Although, I spent ages 10 thru 17 here at FUMCH, my sisters Connie and Missy were always there for me. They didn't have a place like FUMCH when they were young to deal with similar things and yet they still had a heart big enough to love, care, and treat me, there little brother, better than any brother could ever be loved. They drove hours every weekend to pick me up and visit me and that is something that I will be forever grateful for. They are my inspiration, for life.
I also want to acknowledge my brother Albert, who couldn't make it today, but who also spent time at FUMCH with me. He is the best brother I could ask for and I am thankful God placed him in my life during my time here to have a sibling and life-long friend.
My mother is here today and I would like to thank her for being here and say I am proud she has chosen to recover her life from drugs and alcohol and to change her life around.
I want to thank my partner, of 3 years, Michael, who is also here, for being my confidant and best friend. You have also helped me realize that I am worth much more than the things I experienced as a child and I am thankful every day that God placed someone so kind-hearted in my life.
I am extremely thankful to share this moment with my FUMCH family and my birth family.
Thank you to the donors who help in keeping FUMCH open. You don't truly realize how far a donation goes in changing a child's life, I hope my story helped illustrate the true impact.
Lastly, thank you to the Children here today. There was not a moment in preparing for this speech that I wasn't thinking about each and every one of you. I have sat where you are. And I can relate to the things you are going through. Please remember to never let the bad of yesterday to define tomorrow. Never feel like you can't be what you want to be. Be better. Because you can be. And you are.
Thank you