Career Opportunities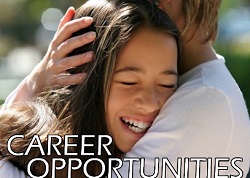 Are you interested in making a positive impact in the lives of children and their families throughout Florida? If you feel you have the experience, dedication, and passion to serve in our diverse ministry and become a member of our team please view our open positions below.
Internal Applicants
Please submit an updated resume for open positions to Human Resources.
External Applicants
Submit resume to jobs@fumch.org or fax to Human Resources, at 386-668-3363 indicating the position you are applying for in the subject line of your email or fax.
---
We have the following open positions:
The Florida United Methodist Children's Home is an Equal Employment Opportunity Employer. The Children's Home does not discriminate on the basis of race, color, creed, national origin, sex, religion, age, disability, veteran status, marital status, or any other status protected by law except where such protected category is a bona fide occupational qualification (BFOQ), to the extent that someone's needs can be addressed and cared for within the scope of program services with the financial resources of the agency. The Children's Home makes services accessible and available for persons with communication challenges.
Benefits. For full time employees, the Children's Home offers a 403(B) Retirement plan with up to 5% match; Florida Blue medical and dental insurance; company paid life insurance equal to annual salary; company paid long-term disability; Employee Assistant Program; Montessori preschool available on-site to employees at 50% off regular rates; Flexible Spending Accounts; longevity bonuses; with vision and AFLAC plans also available.
The Children's Home is a Drug-Free/Tobacco-Free Workplace. Selected applicants receiving a conditional offer of employment will be subject to a drug screening as well as a DCF Level 2 Criminal background check, Local Criminal Background check, and Driver' License check. Compliance with Children's Home Motor Vehicle Driver Guidelines acceptable driving record is required of all selected applicants and employees.

Florida United Methodist Children's Home participates in E-Verify, an Internet-based system of the Department of Homeland Security and Social Security Administration that allows us to determine an employee's eligibility to work in the United States. Click on the links below to view the E-Verify Notice of Participation and Right to work Posters in English and Spanish.


English


Spanish
*Applicants must be currently authorized to work in the U.S. on a full time basis and employer will not sponsor applicants with the following work visas: H1-B, F-1 and H-4